Sermon Podcasts Downloads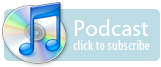 Enjoy our weekly sermons below. You will see that you may press play directly on this page or download them to your own player. Please be aware the files may be large.
Note to site administrators, enable podcast feed by submitting the RSS feed to the iTunes store and linking that new link to the icon above.
Recent Sermons
Pages